I was in my favorite bookstore recently and noticed this really sweet book about Autumn. I had not seen it before nor did I know that it was the fourth and final book in a series of books about the cutest bear family.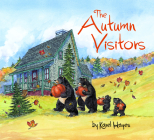 Autumn Visitors
by Karel Hayes is the perfect book for the season. It has wonderful illustrations that show a family of bears and the fun they get into during the fall season. It is such a sweet read aloud that can be read every night from October and Halloween until Thanksgiving. I love the way the sparse text is enhanced by the rich and colorful illustrations. There is something new to discover in every reading. This is the perfect book for a classroom story time or a one on one bedtime read...a must have new book to be read every year during the fall.
I think all the books deserve a place on a child's bookshelf.....going back and reading the first three I really loved
The Winter Visitors
too....this has the Bear family taking over a vacation cottage when the owners leave....few words again but rich and expansive illustrations....a cosy book to read by the fire!