I was so excited that Spring had finally come and that it was warming up here on the East Coast. Sadly we are in for one more wintry blast this week. Although on the bright side I know it won't last and it will get warm again soon. Today's book is a great book to help prepare children for some out door activity. As they say "learning can be fun"....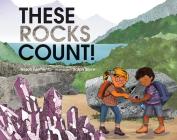 These Rocks Count!
By Alison Formento Illustrated by Sarah Snow is a wonderful new addition to Alison Formento's picture book series
These Things Count
.
It is a great picture book series that teaches children about the world around them.
I also like the series because it isn't preachy or condescending to children.
I know for a fact that kids respond well to the books having seen the author interact with them.
I especially like this new book as rocks have always fascinated me; I even took a geology class in school just to learn more.
I was so excited for spring to come so that on my next walk/hike I can utilize some of the things I learned from reading this book.
A great first book on geology for kids.
A must have for the classroom.