It is March so it is Women's History Month. Today is also International Women's Day. I thought it would be appropriate to write about a girl who never got the chance to grow up and become the woman she was meant to be. Her memory has inspired many by her example and story.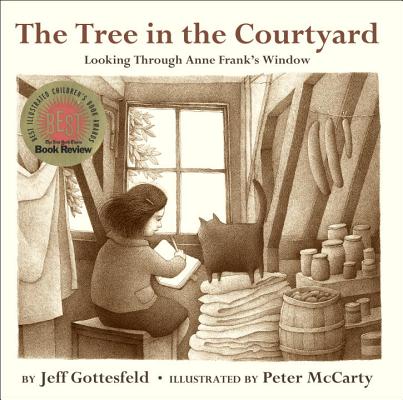 The Tree in the Courtyard: Looking Through Anne Frank's Window
by Jeff Gottesfeld and illustrated by Peter McCarty is the touching story of Anne Frank as told by the tree that stood outside the Annex where she hid. I love the concept of this book. I remember reading about the tree (yes it was real) when it fell during a storm. Anne Frank mentions the tree three times in her diary. I love how Jeff Gottesfeld has poignantly written this picture book from the perspective of the tree. Mr McCarty's illustrations are also such a beautiful match to the poetic words that we cannot help but truly see Anne Frank from a different stand point. This is a wonderful way to introduce a difficult subject to a younger audience. A must have new book....